Rust-Oleum Projects
Design Your Own Denim
Tools & Supplies:

Fiskars Majestic Paper Edgers Scissors

Repositionable Adhesive Spray

Repositionable Stencil Spray Adhesive

Silver 10mm Jewelry End Cap

Turquoise and Green Rhinestones

Turquoise Green and Silver Cord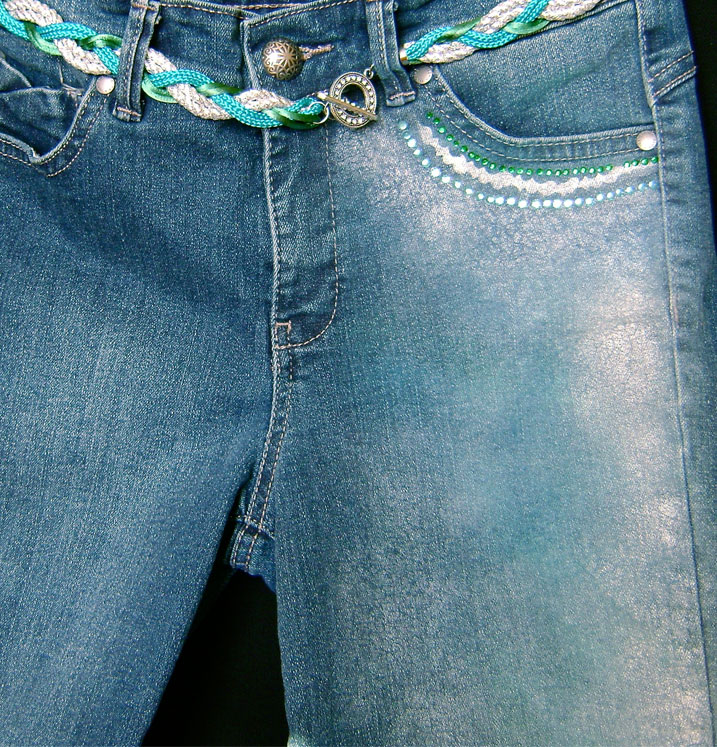 Instructions:
Spray enough of the mesh fabric (1/4 yard needed for project) to cover one leg of the jeans. Position the fabric on the jeans.


Mix green, blue, and white paint to create the turquoise color.


Spray one edge of the fabric lightly with turquoise then with green paint alternating along the length of one pant leg from the hem to just below the pocket.


Spray the entire leg more heavily with the silver paint, with the heaviest concentration near the side seam and decreasing as you move toward the center f the leg. Remove the mesh fabric.


Using edger scissors, cut a curve in sheet of card stock to match the curve of the pocket.


Tape the two cut card stock pieces together on the ends with a space between them, creating a stencil. Coat the back of the stencil with adhesive spray.


Position the stencil just below the pocket and spray with silver paint. Remove the stencil.


Using Dazzle-Tac glue or a hot-fix rhinestone setter, attach a row of green rhinestones above the silver paint and turquoise below.


Create the matching belt by attaching a jump ring and clasp in the middle of all three cords. Cords should be 2.5 X your waist measurement.


Anchor the clasp to your work surface so it will be stable as you braid.


Braid the cords with both strands of the same color together as one.


When you're finished braiding the length you need, use string to temporarily hold the six strands together. Wrap scotch tape around each end. The top edge of the tape placement should line on all the cords.


Trim the tape on each strand to ¼".


With a new piece of tape, wrap all the ends together. Trim the new tape to ¼".


Apply Dazzle-Tac to the inside of the jewelry cap.


Stuff the grouped cords into the cap. Twist to distribute the glue evenly inside.


Attach the other half of the toggle clasp to the cap using a jump ring.


"Designed and Created for Testors by
Domestic-Divaonline.com