Rust-Oleum Projects
Paint the Perfect Pumpkin
Tools & Supplies:

Scotch Spray Mount Repositionable Adhesive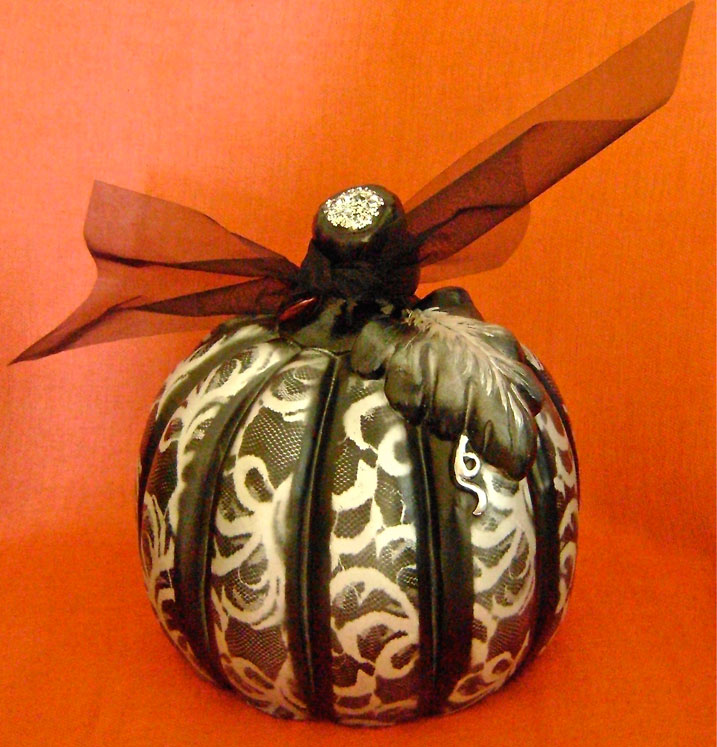 Instructions:
Trace one of the 12 pumpkin sections to create a pattern on tissue paper. Set aside.


On a protected surface, airbrush the pumpkin with silver paint.


To paint the bottom, place the pumpkin upside down into a bowl. Cushion sharp edges of the bowl so as not to accidentally scrape the paint off the pumpkin.


Following your pattern, cut out 12 pieces of lace making them ½" longer than the pattern. Spray the backsides of the cut pieces with adhesive.


Press the 12 pieces onto the pumpkin. Secure the bottom edges on the underside of the pumpkin.


Cut the lace to fit into the curves of the large leaf.


Airbrush the entire pumpkin with light coats of black paint. Note: Allow paint to dry completely between steps.


Use only a light dusting on the leaf so the silver shows through.


When the paint has dried, peel away the lace to reveal the silver design.


Use the silver enamel paint marker to add accents to the leaf.


Dot cement onto the center of the pumpkin stem and sprinkle with silver glitter.


Tie black, sheer ribbon around the stem.
"Designed and Created for Testors by
Domestic-Divaonline.com