Rust-Oleum Projects
Dia De Los Muertos
Tools & Supplies:

Dios De Los Muertos Stencil

Repositionable Adhesive Spray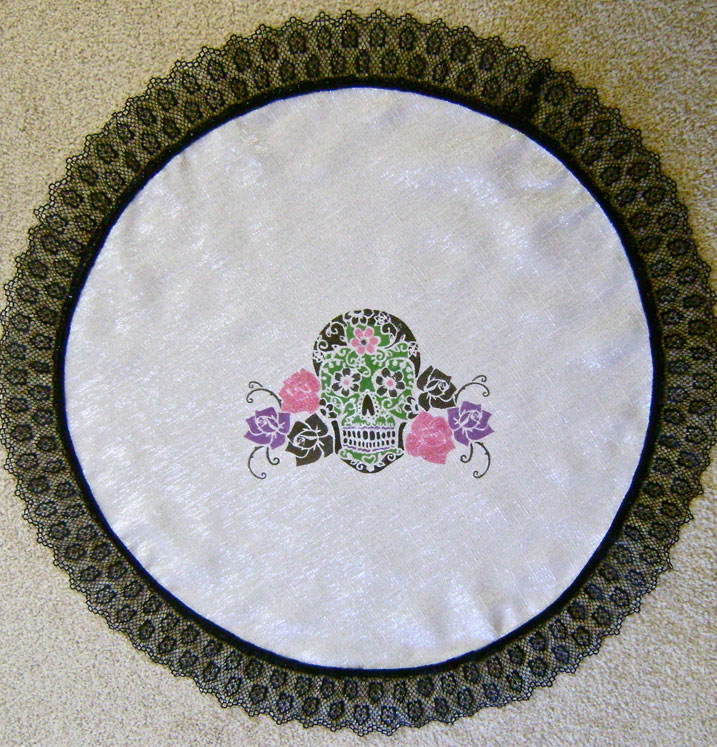 Instructions:
Order the stencil online at Stenciland.com


Measure your round table top from one side to the other. Add two inches and divide the total number in half. This is your straight edge number. The table in this project measures 20" from side to side so the straight edge number is 11"


Create a quarter circle wedge pattern on tissue paper. The 90" degree angles should match the straight edge number. Use that number to make dots in a curve from one straight side to the other. Connect the dots to form a curve.


Fold the fabric in half twice. Pin the tip of the pattern at the tip of the fabric folds. Cut out the quarter circle of fabric.


Use a zigzag stitch or serger to finish the edge and prevent it from fraying while you work on the project.


Spray the back of the stencil with adhesive. Place it in the center of the fabric circle sticky side down.


Protect the work surface with plastic covered with paper towels. Mask off areas not to be painted using tape, torn pieces of card stock, and paper towels.


Study the color image to determine where to place which colors.


Arrange pieces of masking tape as needed. After working an area, lift pieces from the stencil only after the paint is dry and reapply them to other areas to be worked on. Airbrush the purple spaces, the red, then the black. Mix green paint, yellow and a little red to create an olive color. Airbrush the remaining unpainted spaces.


When all the paint is in place and dry, remove the stencil.


After 24 hours set the paint by ironing on the wrong side of the fabric. The painted side should be placed on scrap fabric to protect your ironing surface.


Pin and sew the black lace edge to the edge of the fabric circle with a zigzag stitch. Don't pull or stretch the lace as you sew. It will cause the fabric to pucker and prevent it from laying flat.
"Designed and Created for Testors by Domestic-Divaonline.com