Rust-Oleum Projects
Proud to Be an American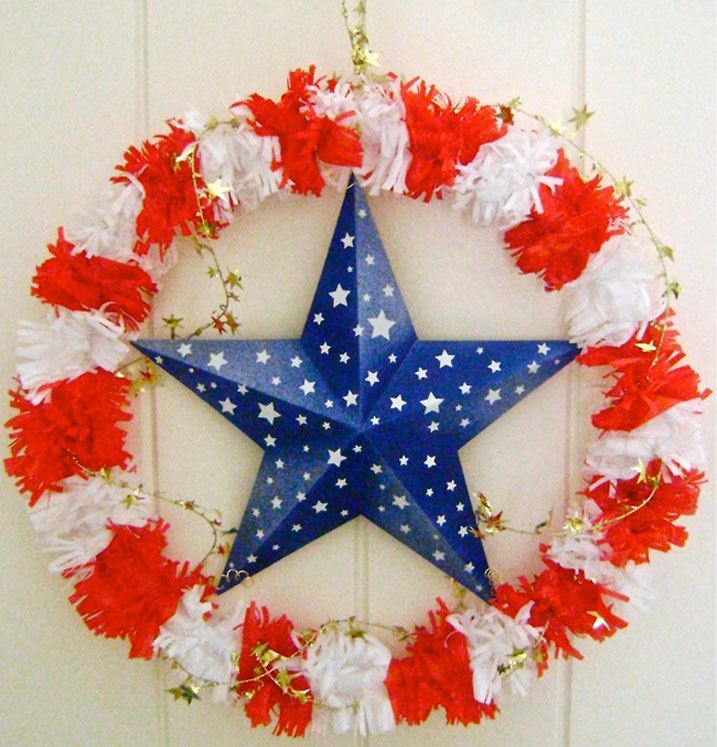 Instructions:
Depending on where you buy your star, it may or may not have wires attached or holes at the points. You can create holes for hanging the star easily with a drill.


Remove all wires. Airbrush the star with white paint.


Adhere star stickers to the painted surface after it has dried.


Airbrush every other panel of the star with blue paint. This will give facing panels a light dusting of color from the overspray. If some areas end up being too white, add a bit more color using very light pressure on the airbrush.


When the paint has dried, use a craft knife to lift an edge of each star and peel them off. Be careful not to scratch the paint in the process.


Create the red and white strips for the wreath by drawing a line one inch from the edge of the plastic table cloth and another parallel at 2.5". Cut the plastic at 3". Cut another to match without marking it. Since the finished pieces will be cut to 6" long strips, work with 6", 12", 18", or 24" lengths because working with the entire length of the table cloth would be very difficult.


Apply a line of hot glue one inch in from each side of the strip, creating a casing for the wreath's tube. Glue small sections at a time, placing hot glue on the drawn lines and covering the strip with the unmarked strips. Use a low temperature glue gun setting. Avoid touching the hot gun tip to the plastic as it will melt.


Use the fringe scissors or a regular scissors to cut the one inch borders outside the glue lines. Cut the length of the strip to 6" long if necessary. Create 12 red and 12 white strips.


Slip the 3.5" of .50 plastic tubing into the casings of the strips, alternating the red and white. The last color on one end of the tube should be white, and on the other end, red.


Push aside the end strips and join the plastic tubing ends to form the wreath shape. Secure them together by winding painters tape around them two or three times. Arrange the strips evenly around the tube, covering the tape.


Wrap a length of gold wire around a pen or other thin round object to create a coil. Slip the straight end into a hole at the top center of the star.


Wrap the wire around the center top of the tube to attach the star to the wreath. If you have holes in more than one star point, you can repeat step 10 and 11 to also secure the star at the sides of the wreath.


Attach the end of the star garland to the center top wire and create a large loop to act as a hanger for your project. Finish the wreath by loosely wrapping the remaining garland around the entire wreath.