Rust-Oleum Projects
A Pillow with Personality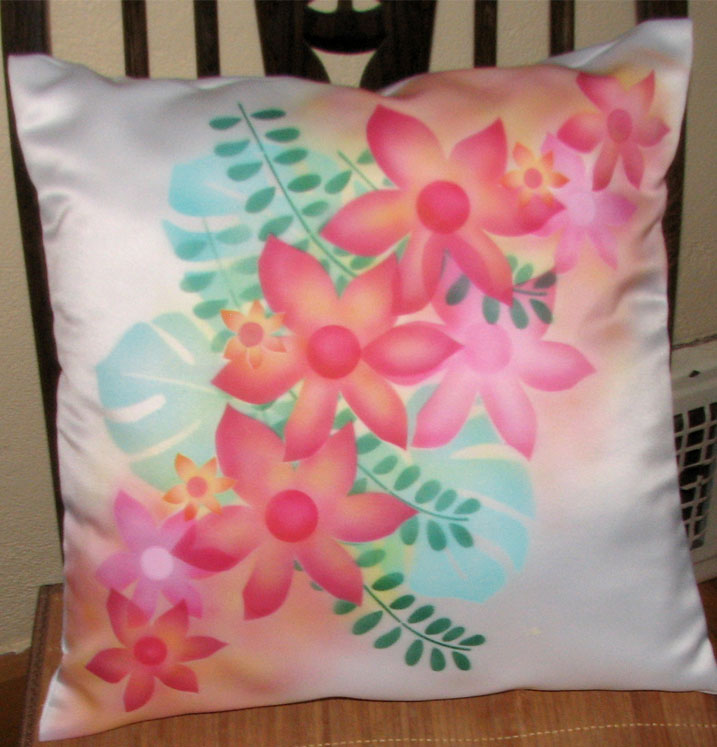 Instructions:


Start by creating a design in Illustrator and print the design to actual size with images outlined. The outlined images are used to cut out stencils. Try to create your own stencils and combine with manufactured stencils. Pre-planning the spraying sequence of colors and stencil order before starting the project helps the airbrushing project go smoothly.


Tip:

If you make your own stencils it helpful to number each stencil and coordinating mask with the same number.


Mount fabric to mat board. Use blue painters tape to hold in place. Place sheets of paper inside the pillow pocket to protect paint from bleeding through fabric.


Arrange stencils on to the pillow pocket. Place all of the flower mask stencils. Position leaf stencils on top of the flower masks. Mask off all areas not being sprayed.
Tip: Use paper towels to protect areas not being sprayed. Lightly spray leaves. Create the leaf color paint by pre-mixing opaque white, torquoise and green in an empty airbrush paint bottle. If you do not have a color that you want to spray you can mix colors to create the desired color before spraying. Remove leaf stencils.


Position and spray smaller leaf stencils Transparent Dark Green. Start with light spray increasing to heavier spray to create gradient effect. Remove leaf stencils.
Tip: Use scrap piece of fabric to test colors.


Remove light pink flower masks. Position light pink flower stencils and airbrush with very light spray of Transparent Rose.


Remove large pink flower masks. Position large pink stencils and airbrush. First spray outer petals with Transparent Cherry, next spray highlight areas with Opaque Yellow and final spray of Transparent Rose.


Position flower center stencil and spray outer edge Transparent Cherry and second spray Transparent Rose.


Remove small flower masks. Position small flower stencils and spray Transparent Rose on outer petals next light spray of Opaque Yellow over entire flower.


Position small flower centers and spray Transparent Rose.


Remove all stencils and freehand spray background using light spray of Transparent Rose. Freehand light spray of Opaque Yellow. Add freehand sprays of background colors to flower petals and leaves if desired. Airbrushing allows you to create soft colors with light sprays or deep rich colors with heavier sprays. It's always exciting to pull off a stencil and see the result of the airbrushed color layers. Layering of airbrush colors produces intense vibrant colors. You can create hard edge effects using stencils or soft edges with freehand sprays. Get creative by using stencils and masks. Found objects like fallen leaves are also a fun way to create different designs!