Rust-Oleum Projects
Create a Phone with Personality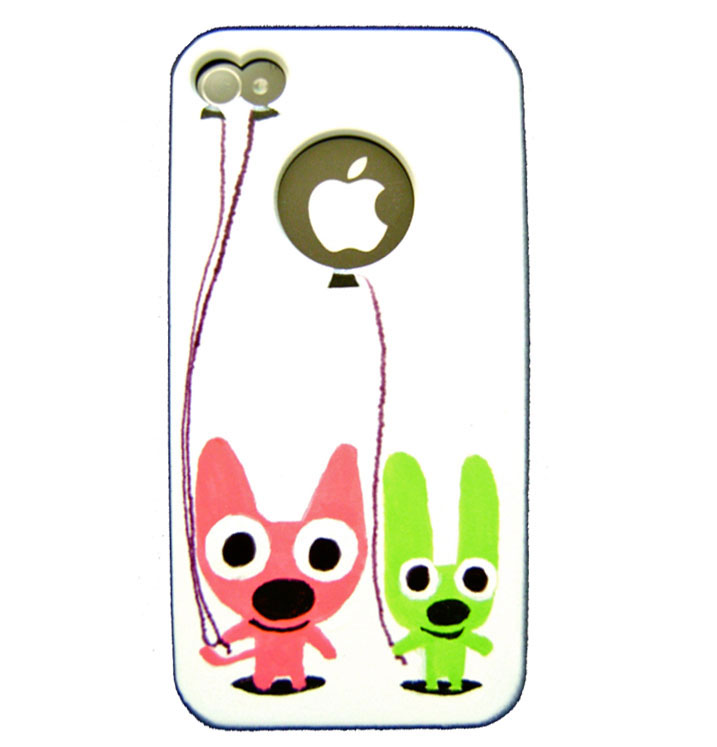 Instructions:
Trace the outside of the

iPhone

case onto card stock. Make a duplicate copy and set it aside to be used later.


On the original, cut inside the case outline to create an opening about 1/8" smaller than the actual case size. Position the opening over the case to act as a mask. Spray the case with white paint. As you do, the stencil will provide a clean edge and prevent paint from getting on the sides of the case.


Remove the stencil. If paint has accidentally found it's way to the black areas, use a craft knife to scrape it off.


Trace your favorite Hoops and

Yoyo

image from a greeting card or magazine, or go to the

Dragoart

.com web page to create one. Search

Google

for "how to draw Hoops and

Yoyo

the Hallmark characters".

Dragoart

will be the first result. This page offers a free tutorial for drawing the characters.


Create outlines only of the Hoops and

Yoyo

characters on the duplicate copy of the case outline. When you're done, make a spare copy of the page on

cardstock

and set it aside. Use a craft knife to cut out the character outlines from one copy.


Place the cutout character outlines over the dried white paint aligning the edges. Use painters tape to secure the stencil and case and keep them from slipping while you work. Do not put tape directly on the painted surface, as the paint will lift off when you remove the tape.


Following the stencil, outline the pink image with a fine brush and very little pink paint.


When the outline is complete, fill it with pink paint using a thicker brush.


Paint the green image with an outline then fill it in.


Complete your drawing on your spare outline copy by creating the noses, eyes, and shadow at the feet. You don't need to draw the pupils of the eyes. This page will be your stencil for the character details. Using a craft knife cut out the shapes you'

ve

just drawn.


Using this stencil, paint all the details, the whites of the eyes, the noses, and the shadows at the feet, by outlining with a fine brush first, then filling in. It will require more than one application of white for the eyes to block out the colors underneath.


When the whites of the eyes are finished, use a fat black marker to create the black pupils.


Use a thin paintbrush to paint the mouths.


Turn the logo and camera eye holes into balloons by painting a small triangle at the center bottom of each with the thin paintbrush.


Use a fine point marker to draw the strings that connect the balloons to the characters hands.


Let the paint dry for a day or more before applying the two coats of the

Glosscote

lacquer. Apply the second coat 20 minutes but no longer than 2 hours after the first.