Rust-Oleum Projects
Testors Pure Gold & CreateFX Chalkboard Spray Paints Bring Oscar Flair to Your Party
Tools & Supplies:

Protective gloves & eyewear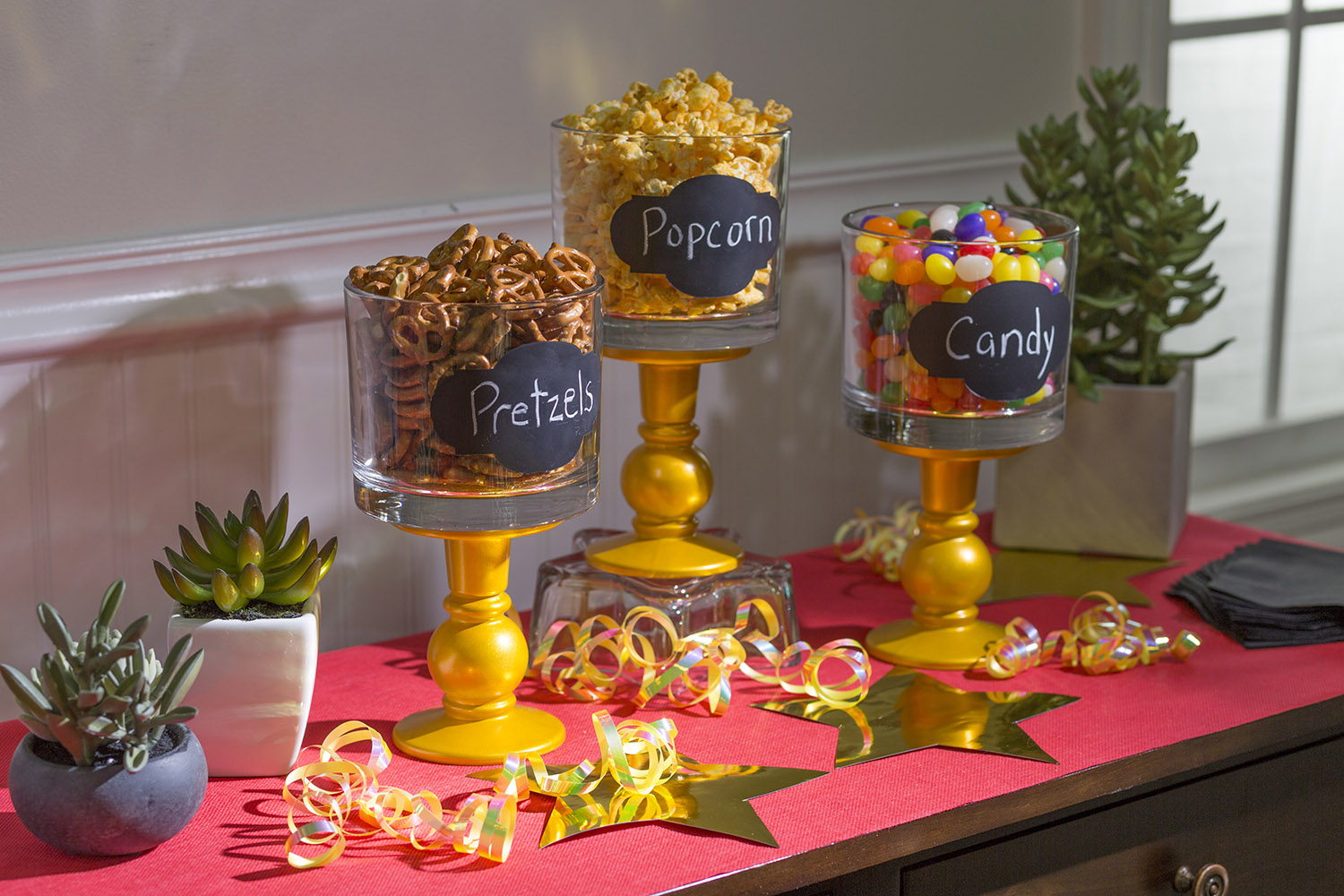 Planning an Oscar party celebration? Craft these fun snack jars using Testors Pure Gold and CreateFX Chalkboard spray paints. Add a few embellishments to your snack table and your party will be red-carpet worthy!

PREPARE: Make sure all bowls and candlesticks are clean and dried thoroughly. Work in a well-ventilated area, such as a garage. Use a drop cloth to catch overspray.

APPLY: Glass bowl: Apply stencil to the glass bowl with stencil adhesive, tape off the parts of the glass bowl you do not want to spray, and spray chalkboard paint into the stencil in a slow, steady back-and-forth motion, carefully overlapping each stroke. Let dry for a few minutes and remove the tape and stencil.

Candlesticks: Spray Pure Gold spray paint in slow, sweeping motions, overlapping each stroke. Once fully covered, let dry 24 hours.

FINISH: Allow paint to dry for 24 hours. Add glue dots to the top of the candlesticks to adhere the glass bowls and push gently on the glass bowls to ensure adhesion. Prepare chalkboard surface by rubbing side of chalk on entire surface and erase. Use chalk to write on the chalkboard paint and fill the bowls with snacks.

TIP: Apply to metal, wood, plastic, hardboard, glass or paperboard. Erases cleanly. For indoor use only. Do not spray near an open flame.